Next-Gen Fleet, Asset, and Mobile Workforce Management
ThingTech Real Time is the revolutionary real-time cloud-based solution designed for asset intensive organizations. Monitor routes, mileage, and time spent on each work order to identify where you can improve. Get alerts when workers are speeding, idling, off-schedule, and enter or exit a job site.  ThingX Connectors allow you to easily connect to your back-end CRM and ERP solutions to integrate customer, financial, and other mission critical data into your real time solution.
ThingTech Real Time helps you monitor and manage assets in real-time by pinpointing the exact time and location of an asset's condition, health, utilization and movement. Map all your assets, equipment, sensors, field workers, and jobs on one screen.
---
---
An IoT Solution for Companies of All Sizes
ThingTech Real Time is targeted at organizations that own or operate vehicles, heavy equipment and machines, sensors, mobile assets, and a mobile workforce that require real time asset location, status, diagnostics, utilization, productivity and alerts.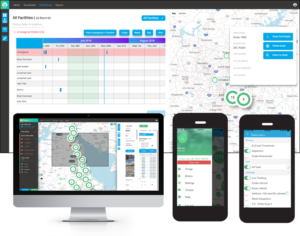 Real Time Architecture

Easily define "things" (e.g. vehicles, assets, sensors, equipment, mobile phones), connect to them using multiple wireless communication methods, define automation rules for your things, and generate actionable data in messages, events, alarms, and workflows. Users can create custom ThingX layers for mapping, graphing, time playback, and analytics. Real time asset data is instantly processed into actions to improve operations, reduce costs, and increase customer satisfaction.
ThingTech Real Time is built on ThingTech's end-to-end IoT platform and uses an extensible object model to extend the properties of your IoT devices into a cloud database.
IoT device data is gathered in real-time, transported securely across your network communication protocol into our serverless cloud that performs data analytics, and contextualized via desktop and mobile.
ThingTech Real Time includes ThingX Mobile, a stunning and intuitive mobile application that enables supervisors and field workers to access job-critical data in real-time. ThingX Mobile is available on Google Play and the App Store.